Genius Racing is entering the 1/8 scale GT car competition market with the GTC8 E full conversion kit!
Based on the results obtained from our test team and with the experience derived from international competitions, we are presenting you the Genius GTC8 E!
The revolutionary all-new GTC8 E conversion kit is not just an aesthetic masterpiece, but a completely new concept of a modern 1/8 GT competition car.
Specifically designed by Eng. Andrea Contarini and Genius Racing R&D department, it was possible to produce a pure 1/8 GT car without compromises!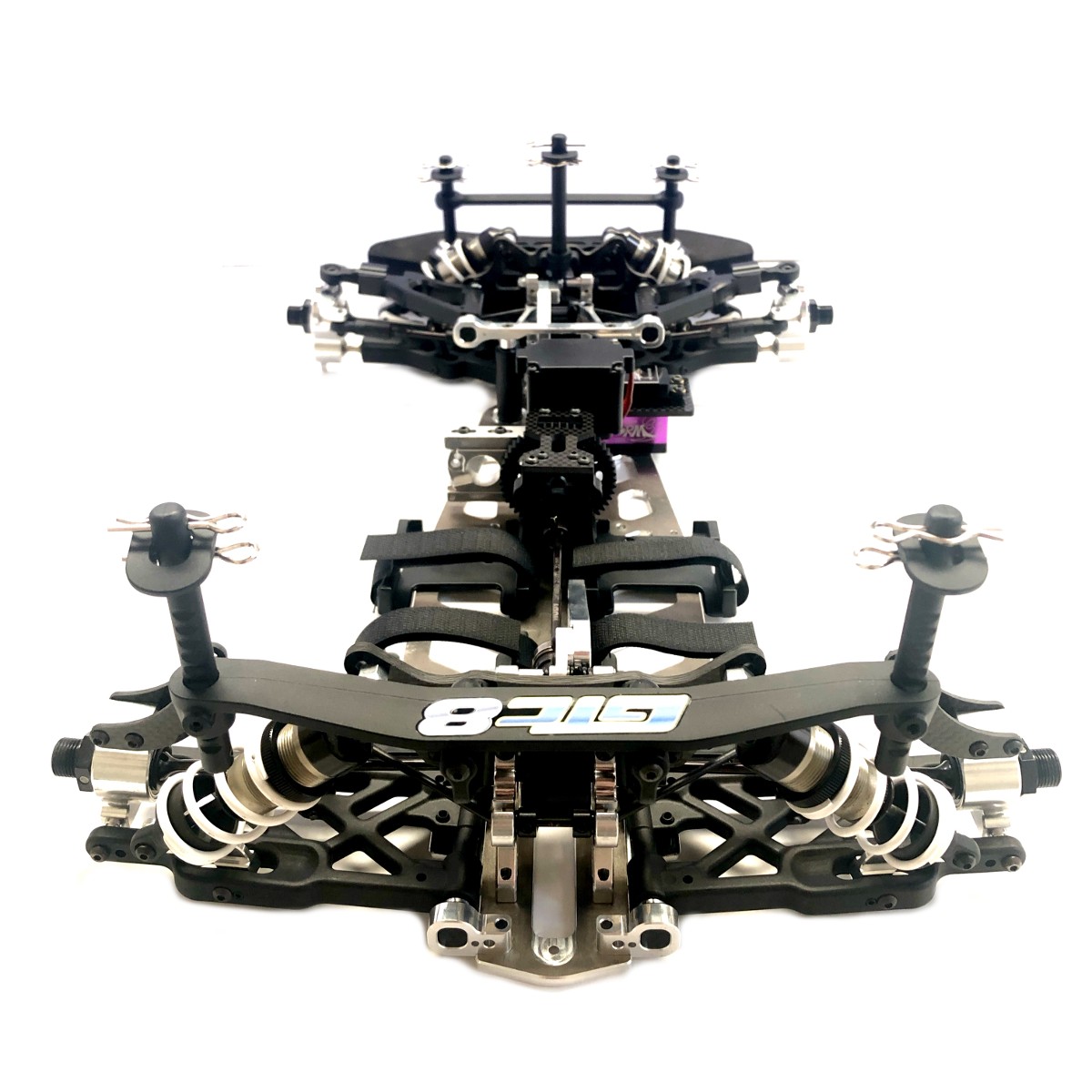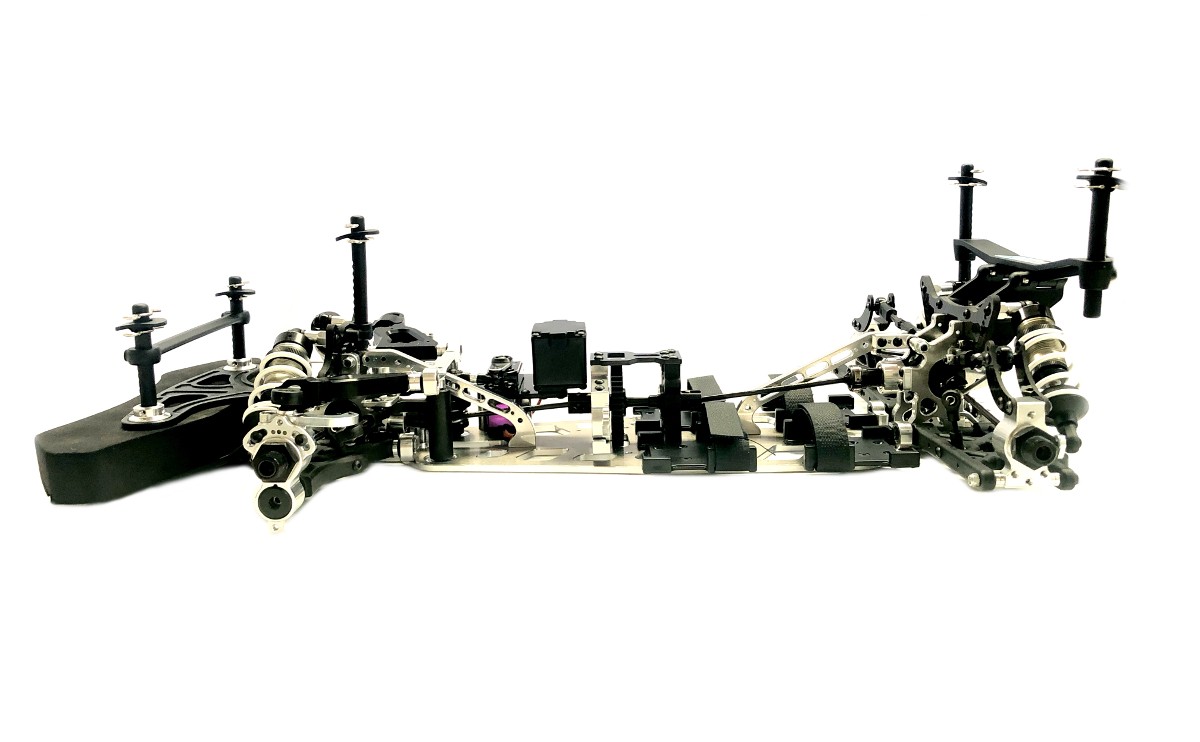 Our priority was of course the pure performance, but also the ease of assembly, maintenance and car's set-up were our main targets.
Beside a fast car we wanted the reliability. That's why we have chosen the best possible platform for our conversion kit …the XRAY GTX8.
The Genius GTC8 E conversion kit can be used with all the platforms of XRAY GTX8 cars, and also with the XRAY XB8 cars by purchasing some additional parts in order to get a complete Genius GTC8 E car.
Designed & made in Italy with passion and without compromises!
Genius GTC8 E – Features
Perfectly balanced symetrical battery position for optimal handling caracteristics
New 4mm ultra-narrow multi-flex chassis. Made from Swiss Alu 7075 T6
Ultra narrow chassis for centering the weights and thus reducing the rolling inertia of the car
Predisposed holes for fixing weights (optional) in order to achieve the perfect balance of the car
Possibility of two extra graphite reinforcements, front and rear, with the possibility of fixing weights at different heights and positions (optional)
New separate front & rear bulkheads with bearing guided anti-roll bars and open diff cases for better cooling and less weight. Made from Swiss Alu 7075 T6
Made from 2 pieces with precise centering thanks to centering pins
Easy removal of the differential
Plastic eccentric bearing bushings with the possibility of having two height positions of the differential
New separated right and left arm mount to ensure free flex of the chassis. Made from Swiss Alu 7075 T6
Lower and upper front and lower rear arm holders with different geometry position
New adjustable chassis reinforcements front & rear with two positions: rigid and flex, in order to be able to vary the torsional stiffness of the car as desired while still retaining the longitudinal stiffness. Made from Swiss Alu 7075 T6
New ultra-precise lightweight adjustable steering-blocks (king-pin angle, trailing/leading axle position, roll-center), made from Swiss Alu 7075 T6
Predisposition for aerodynamic graphite discs (optional)
New ultra-precise lightweight adjustable rear up-rights (wheelbase, roll-center), made from Swiss Alu 7075 T6
Predisposition for aerodynamic graphite discs (optional)
New radio plate made from graphite
Lay-down servo position for lower center of gravity
Centered weigh positioning for reduced rolling inertia
New concept receiver box design for transponder and battery connector fixing
New ackermann arms and plate to get a better steering angle. Made from Swiss Alu 7075 T6
New graphite front and rear shock towers for a more inclined shock position, resulting in a more progressive spring operation
New lower shock extensions, made from Swiss Alu 7075 T6
New foam bumper with holes designed for a better dissipation of the energy when crashing with a new upper bumper mount
Shock absorber with dual rate spring (which allows you to vary the stiffness as a function of the roll angle) in order to achieve excellent traction and handling in slow corners and at the same time maximum stability in fast corners
Rear mobile body support
Front dynamic body support
Front & rear aerodynamic wheel discs
Graphite chassis stiffeners with the possibility of applying balancing weights as well
Graphite front bumper reinforcement plate
Lightweight full Alu transmission
Steel axle with composite spur gear for great motor response
Adjustable easy-fix motor mount
Max. motor length 76mm
3mm graphite radio plate
Centered servo position
Closed composite receiver box on top fo easy access and clean wiring
Composite 2-piece battery supports with velcro straps
Symetrical battery mounting position
Up to 2x 3S (2x 11,1V) battery mounting place

Dettagli Tecnici
Codice / Art.
GT855000 (CAR KIT)
GT855010 (KIT UPGRADE)
Peso / Weight
+/- 3500 g
Passo / Wheelbase
320 – 328 mm
Larghezza / Width
293 – 300 mm
Motore / Engine
1/8 scale Brushless. Max. Length = 76mm
Batteria / Battery
2x 7,4V (2x 2S) – 2x 11,1V (2x 3S)

Vuoi scoprire il prezzo di questo automodello?
Visita il negozio online e ordina adesso la tua Genius GTC8 E.